The Inaugural Summer 2020 Edition
Purple Paisley Brunch 2020 Pts 1 & 2, The Time's Pandemonium, Prince & Popular Music Book, #PrinceTwitterThread for Come, Prince #DM40GB30 Virtual Symposium, Special Prince Edition of Black Magnolias
Welcome to the first edition of the polished solid newsletter which will primarily contain Prince or other music projects and productions by me, De Angela L. Duff AKA polished solid. However, occasionally, we'll switch it up and announce my other pursuits and accomplishments, as well. I won't be sending out newsletters unless I have something to archive or announce. The frequency will range from quarterly to twice a month (rarely) to once a month (most likely) to bi-monthly (also a possibility). This first one is fairly long due to covering summer happenings, so far. Hopefully, future editions won't be as lengthy. Questions or comments? You can always reach me on Twitter @polishedsolid or on Facebook @polishedsolid, also.
---
In The Works…
There's got to be some perks to subscribing to this newsletter. So, with every newsletter, you'll know what's in the works. In some cases, you'll be the first to know.
De Angela is excited to be invited back by The Purple Paisley Brunch to continue the conversation for Ladies of the Park Part 2 with Sueann Carwell, Jill Jones, and Ashley Tamar Davis, on Friday, August 21, 2020, from 8-10 pm EDT. You can purchase tickets here via Zoom.

De Angela is also working on another article to be published in late August for the Rock and Roll Globe, as a companion piece to The Time's Pandemonium article.
Save the date and mark your calendars!
De Angela is planning a follow up to 2017's Peach + Black (#SOTT30BK), Peach + Black 2: A Virtual Sign O' The Times Super Deluxe Celebration (#SOTTSDC) on Saturday, Oct. 10th. You'll be the first to know when registration opens in late August or early September.

De Angela is also currently planning another 3-day, Prince symposium for next year, #1plus1plus1is3, celebrating 40 yrs of Controversy, 30 yrs of Diamonds & Pearls, and 20 yrs of The Rainbow Children on March 26, 27, & 28, 2021 (Fri-Sun), which will most likely be virtual, as well. You'll be the first to know when registration opens in the new year.
---
Purple Paisley Brunch: Ladies of the Park Parts 1 & 2
The Purple Paisley Brunch (PPB) is an annual event created by Tonya Giddens, Founder of Bklyngurl Productions, an event planning company that specializes in private events in the New York City area. This year, PPB is going virtual and will be presented in multiple parts.
De Angela was elated that she was invited to moderate the first panel on Saturday, July 18, 2020, which consisted of Sueann Carwell, Jill Jones, and Ashley Tamar Davis. Jerome Benton and André Cymone both joined in on the conversation. Anna Fantastic was scheduled to participate, but couldn't due to schedule conflicts. It was truly a fun, wonderful event!
De Angela is excited to be invited back to continue the conversation with the ladies on Friday, August 21, 2020, from 8-10 pm EDT. You can purchase tickets here via Zoom.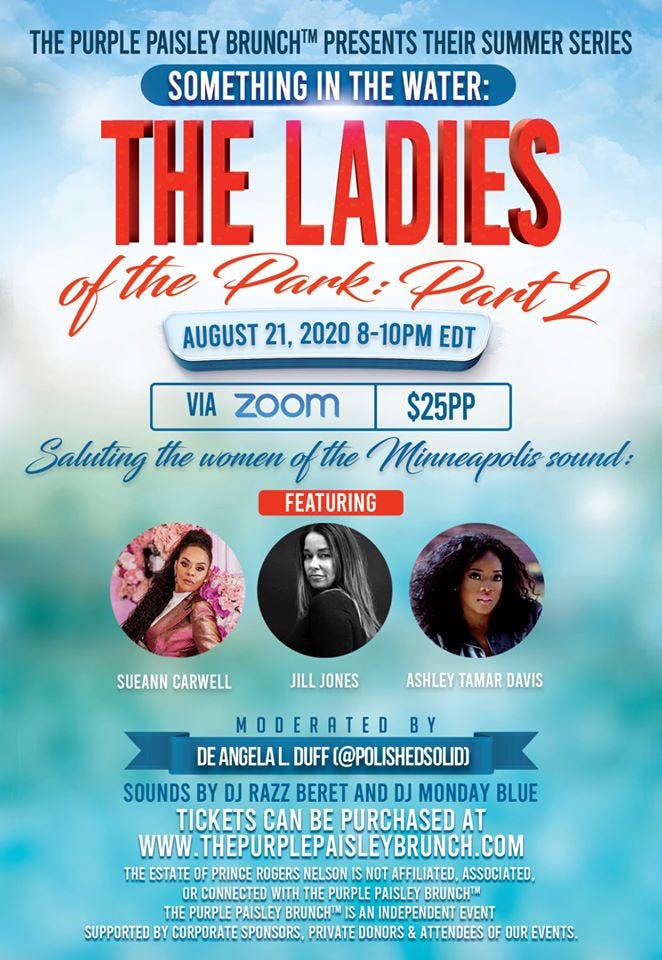 ---
Celebrating 30 years of The Time's Pandemonium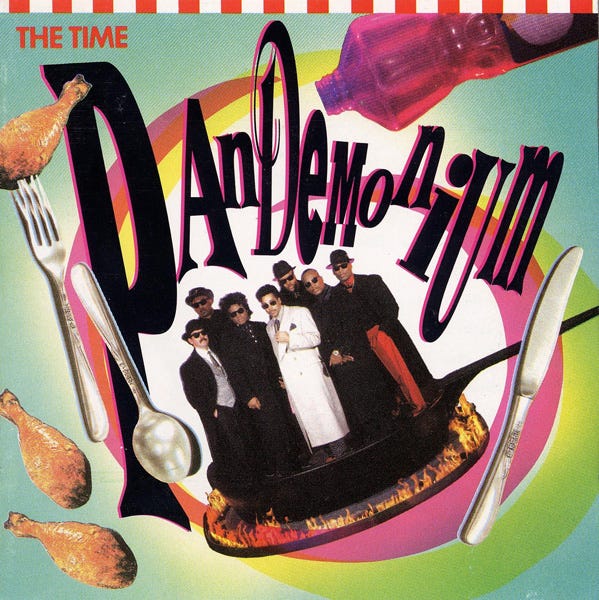 De Angela was beyond thrilled to be asked by the Rock and Roll Globe to write about one of her favorite albums of ALL time, The Time's Pandemonium, celebrating 30 years! If you haven't ever listened to this classic, now is the time! And, if you already have, it's definitely a repeat listening experience!
---
Prince and Popular Music Book
De Angela is very proud to have her essay, "Under the Cherry Moon: Prince as His Most Authentic Self," in the book, Prince and Popular Music: Critical Perspectives on an Interdisciplinary Life, edited by Mike Alleyne & Kirsty Fairclough and published by Bloomsbury. Her essay is based on the talk of the same title that she gave at the first Prince academic conference, Purple Reign: An interdisciplinary conference on the life and legacy of Prince, at the University of Salford in Manchester, England, in May 2017.
Alongside the editors and a number of essay authors, she participated in a Prince and Popular Music Digital Book Launch on Sunday, June 28, 2020, on Zoom.
---
#PrinceTwitterThread: Come album
De Angela contributes to the #PrinceTwitterThread curated by Edgar Kruize and Deejay UMB for Prince's 1994 Come album. Her contribution was for the song, "Orgasm."
To see the entire series of Come threads visit Edgar Kruize's purplepicks.net.
---
Prince #DM40GB30 Virtual Symposium
The Estate of Prince Rogers Nelson is not affiliated, associated, or connected with the 'Prince DM40GB30 Symposium,' nor has it endorsed or sponsored the 'Prince DM40GB30 Symposium.' Further, the Estate of Prince Rogers Nelson has not licensed any of its intellectual property to the producers, advertisers, or directors of the 'Prince DM40GB30 Symposium.'
#DM40GB30 was a 3-day virtual symposium, celebrating Prince for 40 yrs of Dirty Mind & 30 yrs of Graffiti Bridge, on June 12, 13, & 14, 2020 that De Angela curated and co-produced!
We were so looking forward to the Prince #DM40GB30 Symposium in April. Then, COVID-19 happened and we had to postpone the original event. We eventually pivoted to a virtual symposium online using the Hopin platform.
We had 1,200 people register on the Hopin platform from 16 countries: US, UK, Netherlands, Canada, France, Australia, Germany, Spain, Russia, Peru, New Zealand, Norway, Finland, Sweden, Italy, and Ireland. We also had international speakers from the UK, the Netherlands, and Scotland. There was a steady state of 300 to 400 people at ALL times over the course of 3 days for approximately 8-9 hours per day.
You can find a recap of the schedule, alongside speaker bios & abstracts on the symposium website at http://bit.ly/DM40GB30.
While it won't be the same experience without the communal Hopin platform, video archives are in the process of being posted within the #DM40GB30 playlist. Subscribe to De Angela's YouTube channel to get notified as more video archives are posted.
---
Special Prince Edition of Black Magnolias: A Literary Journal
De Angela is honored to have her Jill Jones paper, "She's Always in My Hair: Jill Jones–The Unheralded Muse of Prince," (originally presented @ Black Portraiture[s] IV: The Color of Silence at Harvard University on Friday, March 23, 2018) alongside some of her favorite writers, Michael A. Gonzales, Robert Loss & C. Liegh McInnis, in a special Prince issue of Black Magnolias Literary Journal. You can either read it online or order a print copy. The cover was created by Monica Taylor-McInnis.
Edited by C. Liegh McInnis, author of The Lyrics Of Prince Rogers Nelson: A Literary Look At A Creative, Musical Poet, Philosopher, And Storyteller, this special issue contains articles from accomplished academicians, literary creatives, and musicians, including Robert Loss (author of Nothing Has Been Done Before: Seeking the New in 21st-Century American Popular Music) and Michael A. Gonzales (whose work has appeared in Vibe, Essence, Pitchfork, The Village Voice, Wax Poetics, Catapult, Soulhead.com, Ebony, and The Paris Review).
---
Thanks for reading! If you enjoyed this newsletter, please consider either subscribing now
or sharing it with your purple friends.
---
Also, feel free to reach out to De Angela via direct message on Twitter @polishedsolid or on Facebook also @polishedsolid. Until next time… In the meantime, I hope you are looking forward to the Prince SOTT Super Deluxe box sets as much as I am! I'm counting the days, the hours, the minutes, the seconds & milliseconds. Are U? 🍑+🖤 Forever!